Image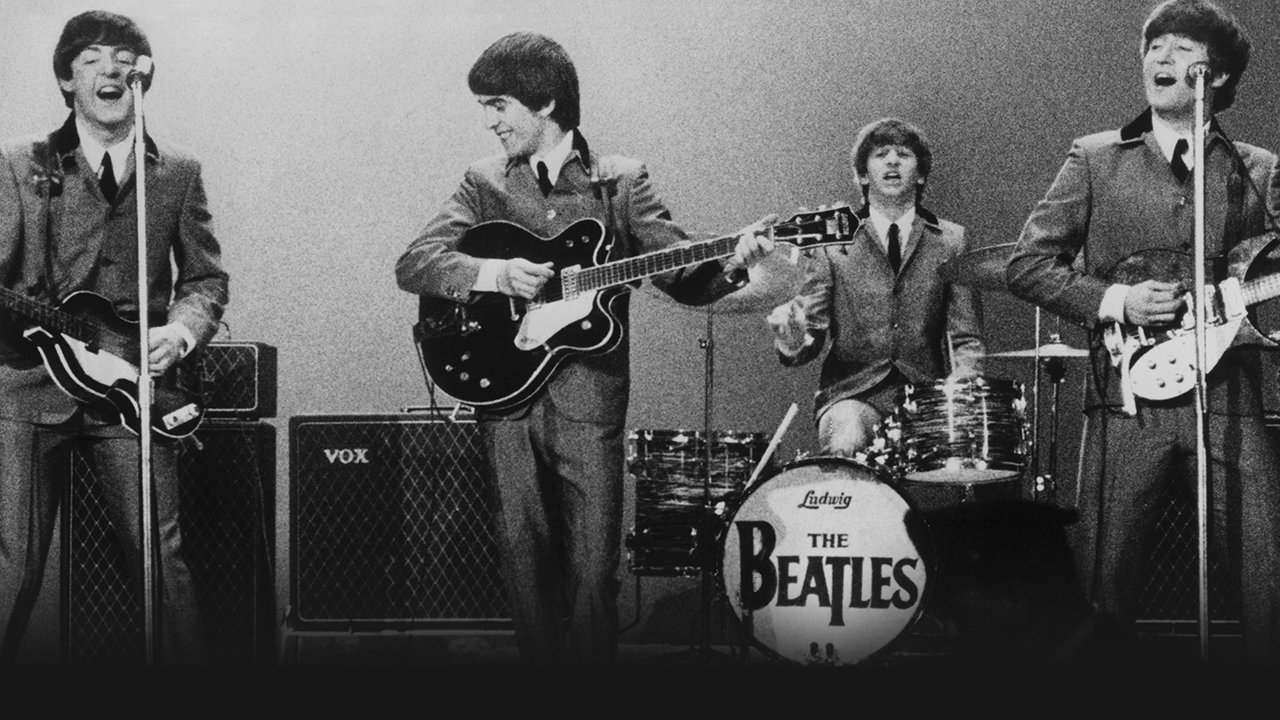 Film
The Beatles: Eight Days A Week - The Touring Years
Release date: 15th November 2016
"I still remember that first moment Ringo played with us. BANG he kicks in and it was an oh my god moment. We're like "Wow", and we're all looking at each other thinking "Yeah this is it.""
"My picture of it now is that there was a ship going to discover the new world and The Beatles were in the crow's nest. And we just said, Land Ho!"
"That was the good thing about being four together, not like Elvis, you know. I always felt sorry later, for Elvis, because he was on his own, he had his guys with him, but there was only one Elvis, no-body else knew what he felt like. But for us, we all shared the experience."
"When we came to America - I know this for myself, and I know because we talked to each other - we were in America before the plane landed. I could feel New York. It was an incredible sensation - it was like "Come on down, boys.""
After their now-legendary North American debut on "The Ed Sullivan Show" in 1964, The Beatles transfixed the U.S. and the tremors were felt worldwide, transforming music and pop culture forever with their records and television appearances. The Beatles' extraordinary musicianship and charisma also made them one of the greatest live bands of all time.
In The Beatles: Eight Days a Week – The Touring Years, Oscar®-winning director Ron Howard (A Beautiful Mind, Apollo 13) explores the history of The Beatles through the lens of the group's concert performances, from their early days playing small clubs in Liverpool and Hamburg to their unprecedented world tours in packed stadiums around the globe from New York to Melbourne to Tokyo.
The first feature-length documentary authorised by The Beatles since the band's breakup in 1970, Eight Days a Week features rare and never-before-seen archival footage of shows and interviews, plus new interviews with Paul McCartney, Ringo Starr and numerous prominent observers.
The film captures the exhilaration of The Beatles' phenomenal rise to fame as well as the toll it eventually took on the band members, prompting them to stop touring altogether in August 1966 and devote their prodigious musical energy to the series of ground-breaking studio recordings for which they are best known today.
Image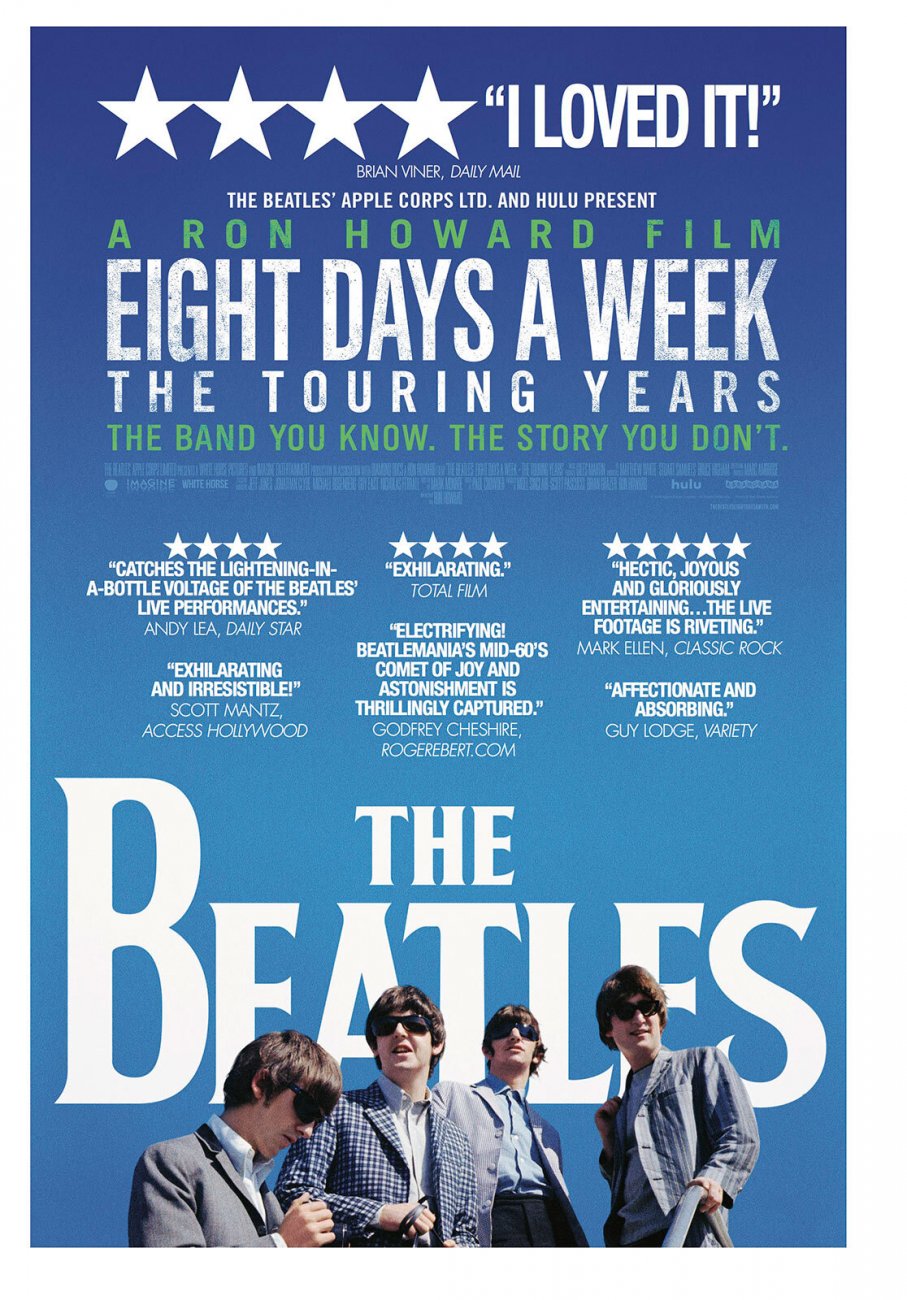 | | |
| --- | --- |
| Ron Howard | Directed by |
| Mark Monroe | Written by |
| P.G. Morgan | Story Consultant |
| John Lennon | Self (archive footage) |
| Paul McCartney | Self |
| George Harrison | Self (archive footage) |
| Ringo Starr | Self |
| Richard Curtis | Self - Writer, Director |
| Frank Phillips | Self - BBC Radio Newsreader (voice) (archive footage) |
| Leonard Parkin | Self - BBC Radio Newsreader (voice) (archive footage) |
| Carroll James | Self - WWDC Disc Jockey (voice) (archive footage) |
| Marsha Albert | Self (voice) (archive footage) |
| Eddie Izzard | Self |
| Ed Sullivan | Self (archive footage) |
| Whoopi Goldberg | Self |
| Neil Aspinall | Self - Beatles Touring Manager 1962-1970 |
| Brian Epstein | Self - Beatles Manager (archive footage) |
| Elvis Costello | Self |
| Richard Lester | Self - Director 'A Hard Day's Night' and 'Help!' |
| Malcolm Gladwell | Self - Author |
| Larry Kane | Self - News Director WFUN Miami |
| Muhammad Ali | Self (archive footage) |
| Derek Taylor | Self - The Beatles' Press Agent 1963-1964 (voice) (archive footage) |
| Sigourney Weaver | Self |
| Kitty Oliver | Self - Historian (as Dr. Kitty Oliver) |
| Howard Goodall | Self - Composer |
| Harold James | Self (voice) (archive footage) |
| George Martin | Self - Producer (archive footage) |
| Jon Savage | Self - Author |
| Doug Layton | Self - WAQY Radio Host (archive footage) |
| Tommy Charles | Self - WAQY Radio Host (archive footage) |
| Ed Freeman | Self - The Beatles' U.S. Tour Roadie 1966 |
| Marc Ambrose | Supervising Producer |
| Jonathan Clyde | Executive Producer |
| Guy East | Executive Producer |
| Nicholas Ferrall | Executive Producer |
| Jeanne Elfant Festa | Co-executive Producer |
| Brian Grazer | Producer |
| Ron Halpern | Executive Producer: Studiocanal |
| Cassidy Hartmann | Co-executive Producer |
| Bruce Higham | Co-producer |
| Ron Howard | Producer |
| Jeff Jones | Executive Producer |
| Scott Pascucci | Producer |
| John Rita | Associate Producer |
| Michael Rosenberg | Executive Producer |
| Stuart Samuels | Co-producer |
| Nigel Sinclair | Producer |
| Matthew White | Co-producer |
| Ric Markmann | (original music by) |
| Dan Pinnella | (original music by) |
| Chris Wagner | (original music by) |
| Caleb Deschanel | Cinematography by |
| Paul Lang | Cinematography by |
| Tim Suhrstedt | Cinematography by |
| Michael Wood | Cinematography by |
| Jessica Young | Cinematography by |
| Paul Crowder | Film Editing by |
| Ria Biggerstaff | Hair Stylist / Makeup Artist |
| Sophie Brown | Makeup Artist |
| Haley Coats | Makeup Artist |
| Gemma Kirk | Makeup Artist |
| Tracy Raffelson | Makeup Artist |
| Mark McCune | Additional Production Supervisor |
| John Rita | Production Supervisor |
| Carles Berot | Dubbing Supervisor |
| Robert Dehn | Sound Studio Manager |
| Will Digby | Sound Effects Editor |
| Nathan Evans | Sound Mixer |
| Cameron Frankley | Re-recording Mixer / Sound Designer / Supervising Sound Editor |
| Darlene Gorzela | Additional Sound |
| Chris Jenkins | Re-recording Mixer |
| Dan Kenyon | Sound Effects Editor |
| Evan Menak | Sound Mixer: Los Angeles |
| Harrison Meyle | Dialogue Supervisor |
| Jon Michaels | Co-supervising Sound Editor |
| Ryan Murphy | Mix Stage Engineer |
| Tony Pilkington | Mix Stage Engineer |
| Mark Purcell | Mix Technician |
| Fred Stuben | Sound Mixer (multiple segments) |
| Ann Marie Wachel | Additional Sound |
| Inka Kendzia | Motion Design |
| Marc Ambrose | Camera Operator |
| Victor Avila | Camera Operator: Ringo Starr Interviews |
| Ian Barwick | Gaffer |
| Jamie Boulton | Digital Imaging Technician |
| Matt Buchan | Electrician |
| Joshua Callis-Smith | Digital Imaging Technician: additional photography |
| Colin J. Campbell | Gaffer: Ringo Starr Interviews |
| Simon Chubbock | Digital Imaging Technician: additional photography |
| Michael Cooper | Photographer: Sgt Pepper Lonely Hearts Club Band |
| Jerry C. Deats | Key Grip: Ringo Starr Interviews |
| Cooper Donaldson | Gaffer: Additional Photography |
| Robert Freeman | Photographer: Rubber Soul |
| Paul Goodstein | Key Grip: Ringo Starr Interviews |
| Jason Juhl Gray | Grip |
| Callum Just | Digital Imaging Technician |
| Kiva Knight | Gaffer |
| David Penfold | First Assistant Camera |
| Jonathan Petts | Digital Imaging Technician: UK |
| Tommy Tieche | Camera Operator: Ringo Starr Interviews |
| Patrick Tittmar | Digital Imaging Technician: Additional Photography |
| Mark Weinberg | Camera Operator |
| David J. White II | First Assistant Camera: Ringo Starr Interviews |
| Inka Kendzia | Animation Director |
| Jamie Boulton | Additional Editor / First Assistant Editor / Post-production Supervisor |
| Juan Ignacio Cabrera | Colorist |
| Carissa Clark | In-house Producer |
| Alexandra De La Vega | Post Production Supervisor |
| Lucy Donaldson | Assistant Editor |
| Rich Evirs | Assistant Editor |
| Melissa Goodall | Post-production Assistant |
| Caryl Deyn Korma | Additional Colorist |
| Andy Lichtstein | Digital Intermediate Colorist |
| Robert A. Martinez | Post-production Coordinator (as Robert Martinez) / Second Assistant Editor (as Robert Martinez) |
| Sierra Neal | Assistant Editor |
| Caite Ni'Ceileachair | Music and Stock Footage Coordinator: Studiocanal |
| Mike J. Nichols | Assistant Editor |
| Manuel Reveles | Assistant Editor |
| Lauren Saffa | Associate Editor |
| Karen Sim | Additional Editor |
| Matthew Strattman | Assistant Editor |
| Charles R. Uy | Additional Editor |
| Ciaran Michael Vejby | Assistant Editor |
| Faroukh Virani | Assistant Editor |
| Richard Wiseman | Archival Department |
| Yvette Gonzalez-Nacer | Composer: Additional Music |
| Giles Martin | Music Producer |
| Melissa Muik | Music Editor |
| Sam Okell | Music Mixer: Songs |
| Alastair Sirkett | Sound Design |
| David Torn | Original Song Written and Performed by: "One More Chance" |
| Alexander Ayer | Production Assistant |
| Emad Barakat | Production Intern |
| Jim Berkenstadt | Researcher |
| Jessica Berman Bogdan | Archival Clearances |
| Mélodie Boileau | Laboratories Coordinator: Laboratories Coordinator |
| Blake Brown | Production Coordinator: New York |
| Robert Burke | Marketing |
| Francesca Canducci | Blu Ray/DVD Author |
| Cathy Carapella | Music & Media Licensing |
| Dean Cheley | Clearance Counsel |
| Adrienne Collatos | Archival Researcher |
| Alexandra De La Vega | Researcher |
| Melissa Goodall | Archival Research / Licensing Coordinator / Production Assistant: Ringo Starr Interviews |
| Jacob Gutman | Clearance Coordinator / Production Assistant |
| Naomi J. Hall | Archive Researcher |
| Renee Hines | Assistant Production Accountant |
| Theron Kabrich | Consultant: Photographers |
| Kristian Kobe | German Publicist |
| Pearl Lieberman | Archival Research |
| Mark McCune | Clearance Supervisor |
| Jim McDonnell | Additional Archive Researcher |
| Sean Mears | Researcher |
| Nicolas Andrew Motte | Production Assistant |
| Emily Precious | Production Coordinator |
| Emily Rice | Production Accountant |
| John Rita | Licensing Manager |
| Chris Robertson | Archival Clearances |
| Tony Rosenthal | Production Coordinator |
| Kate Serfoss | Clearance Counsel |
| Bomber Hurley Smith | Researcher (as Bomber Hurley-Smith) |
| Michele Spitz | Audio Description Co-Producer/Narrator/Sponsor |
| Dan Stutz | Production Legal |
| Mireia Vilanova | Production Intern |
| Bob Wasserman | Archival Research Assistant |
| Windsor Wong | Licensing Coordinator |
| Bruce Wrigley | Post-production Payroll Accountant |