Image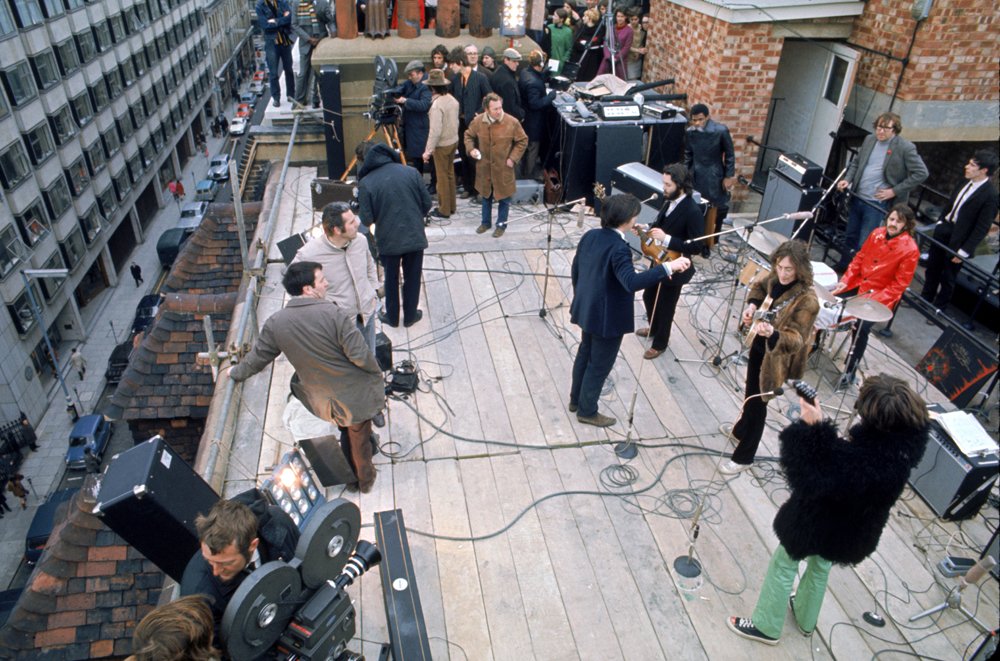 Film
The Beatles: Get Back
First broadcast 25th November 2021
"Working on this project has been a joyous discovery. I've been privileged to be a fly on the wall while the greatest band of all time works, plays and creates masterpieces. I'm thrilled that Disney have stepped up as our distributor. There's no one better to have our movie seen by the greatest number of people."
"I am really happy that Peter has delved into our archives to make a film that shows the truth about The Beatles recording together. The friendship and love between us comes over and reminds me of what a crazily beautiful time we had"
"I'm really looking forward to this film. Peter is great and it was so cool looking at all this footage. There was hours and hours of us just laughing and playing music, not at all like the version that came out. There was a lot of joy and I think Peter will show that. I think this version will be a lot more peace and loving, like we really were.."
Directed by Peter Jackson, The Beatles: Get Back is an original docuseries made entirely from what was never-before-seen, restored footage. It provides the most intimate and honest glimpse into the creative process and relationship between John, Paul, George, and Ringo ever filmed.
"The Beatles: Get Back" takes audiences back in time to the band's January 1969 recording sessions, which became a pivotal moment in music history. The docuseries showcases The Beatles' creative process as they attempt to write 14 new songs in preparation for their first live concert in over two years. Faced with a nearly impossible deadline, the strong bonds of friendship shared by John Lennon, Paul McCartney, George Harrison, and Ringo Starr are put to the test.
The docuseries is compiled from nearly 60 hours of unseen footage shot over 21 days, directed by Michael Lindsay-Hogg in 1969, and from more than 150 hours of unheard audio, most of which had been locked in a vault for over half a century. Jackson was the only person in 50 years to have been given access to this Beatles treasure trove, all of which has now been brilliantly restored.
What emerges is an unbelievably intimate portrait of The Beatles, showing how, with their backs against the wall, they could still rely on their friendship, good humor, and creative genius. While plans derail and relationships are put to the test, some of the world's most iconic songs are composed and performed. The docuseries features – for the first time in its entirety – The Beatles' last live performance as a group, the unforgettable rooftop concert on London's Savile Row, as well as other songs and classic compositions featured on the band's final two albums, Abbey Road and Let It Be.
Get Back won 5 Emmy's in 2022, for Outstanding Documentary Or Nonfiction Series, Outstanding Directing For A Documentary/Nonfiction Program, Outstanding Picture Editing For A Nonfiction Program, Outstanding Sound Editing For A Nonfiction Or Reality Program (Single Or Multi-Camera) and Outstanding Sound Mixing For A Nonfiction Or Reality Program (Single or Multi-Camera).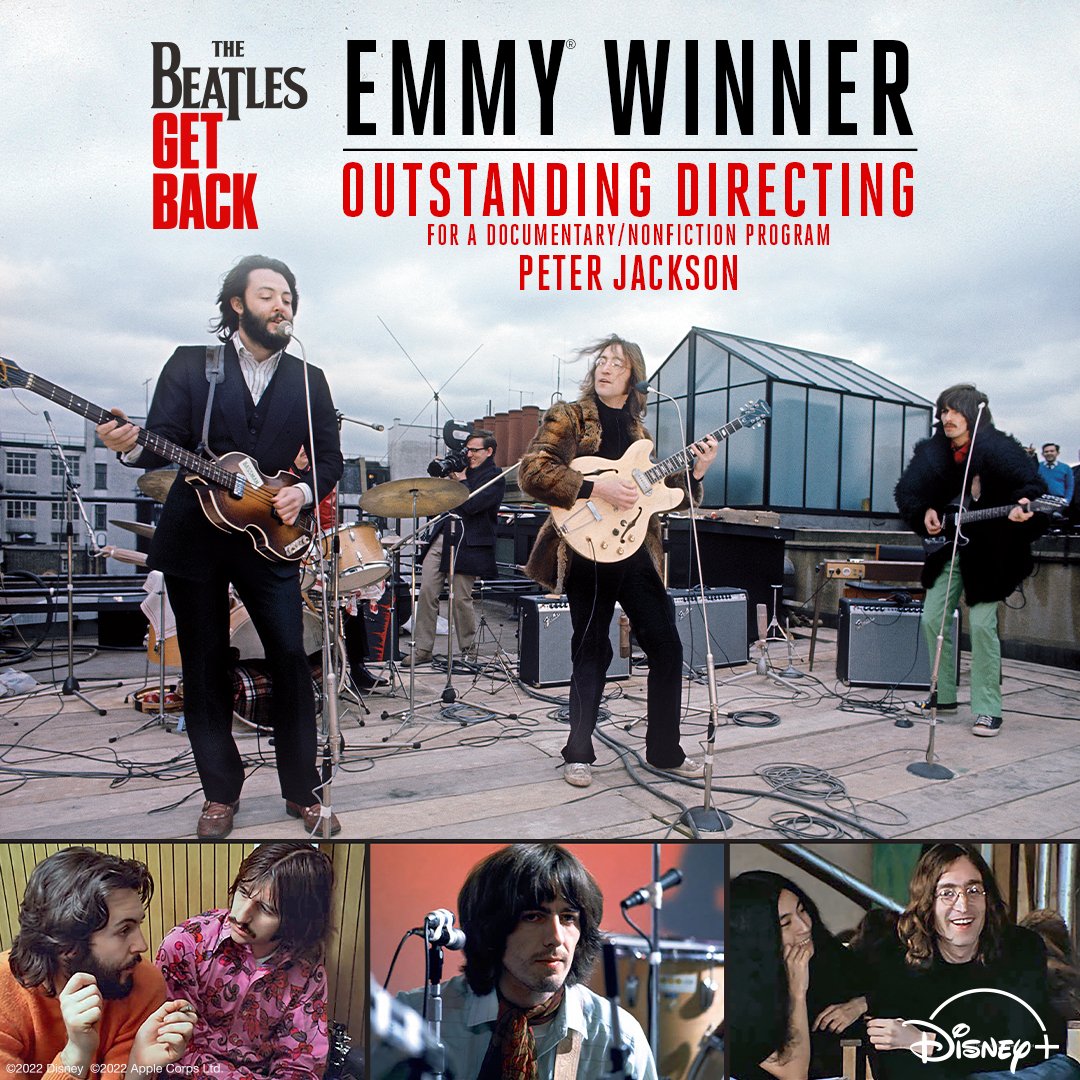 Image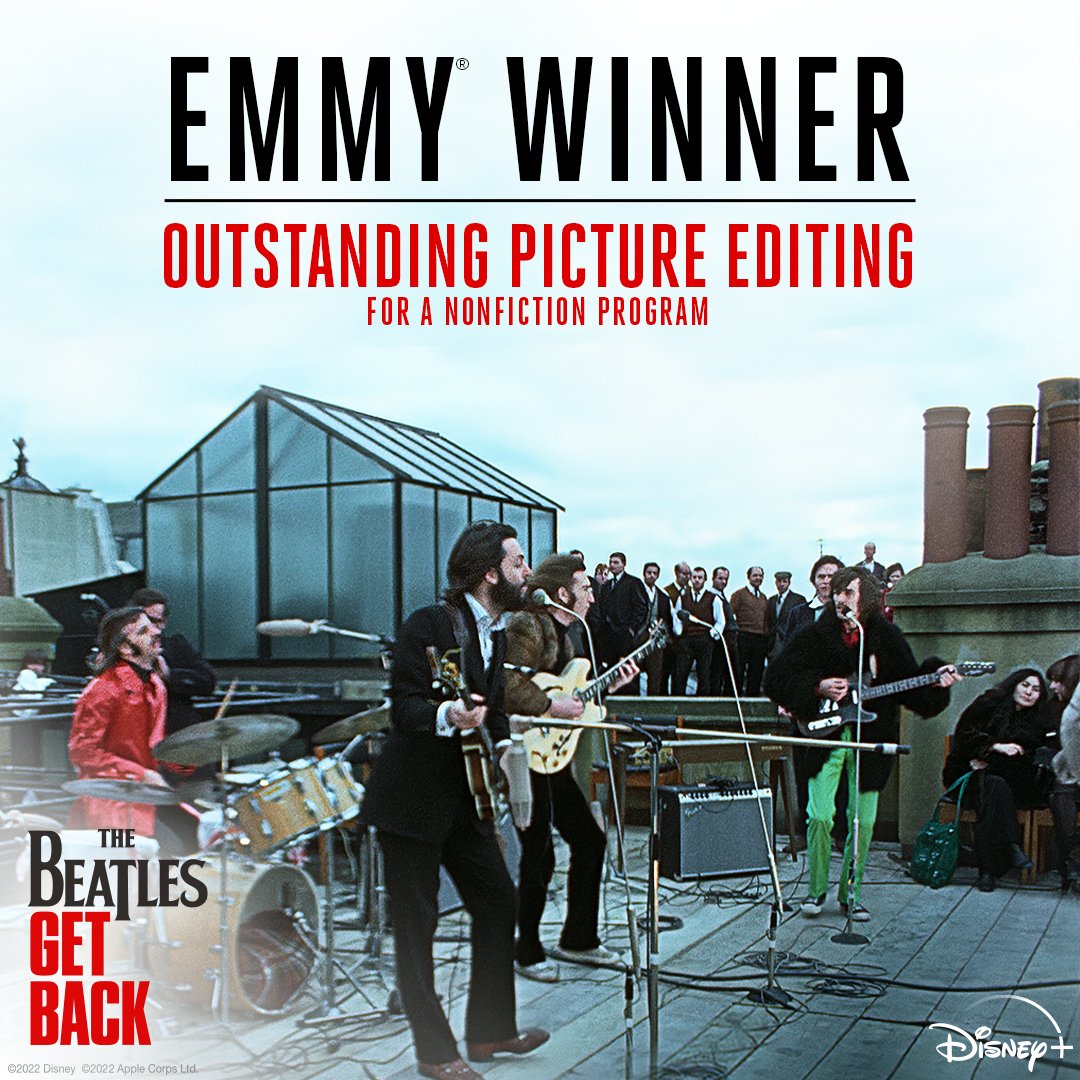 Image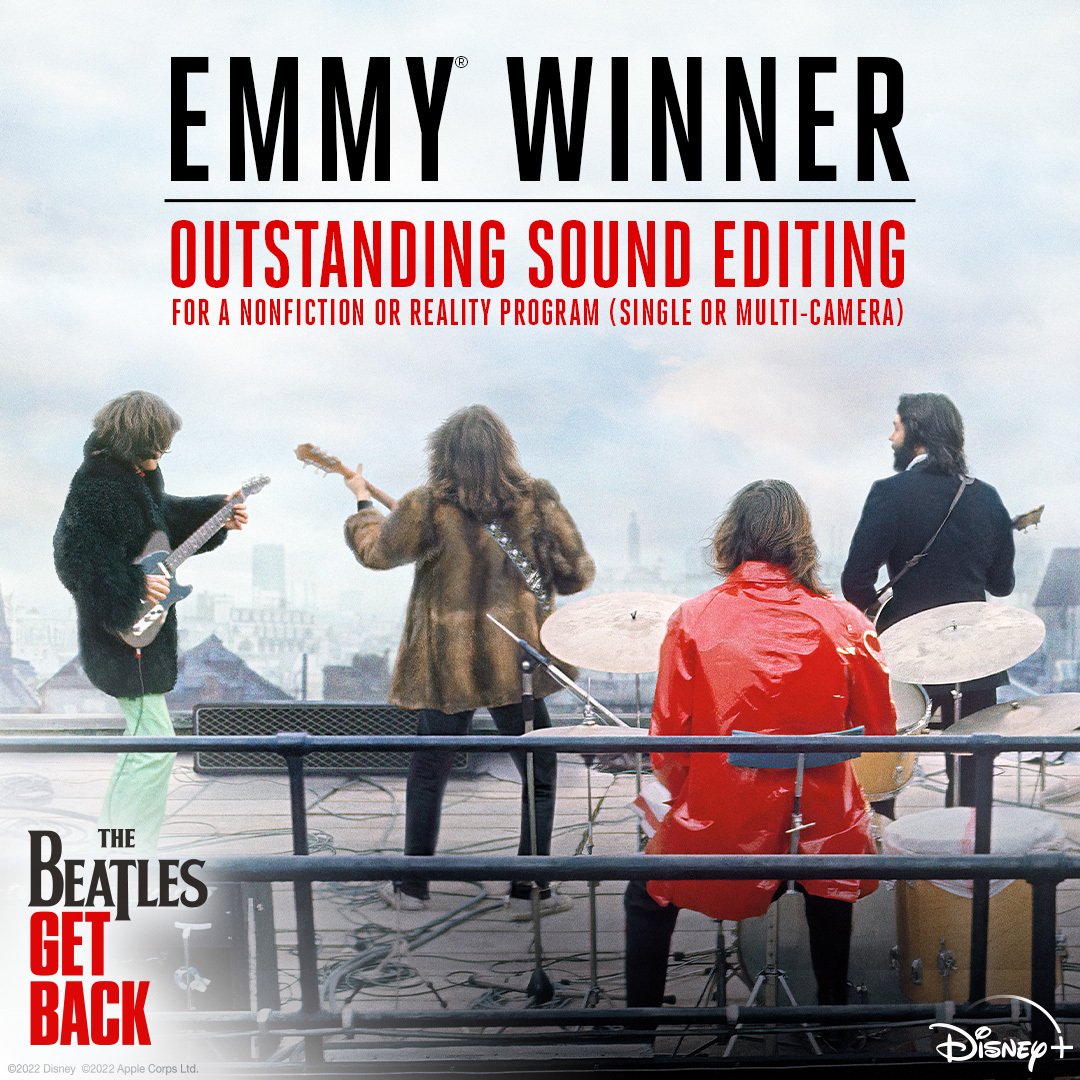 Image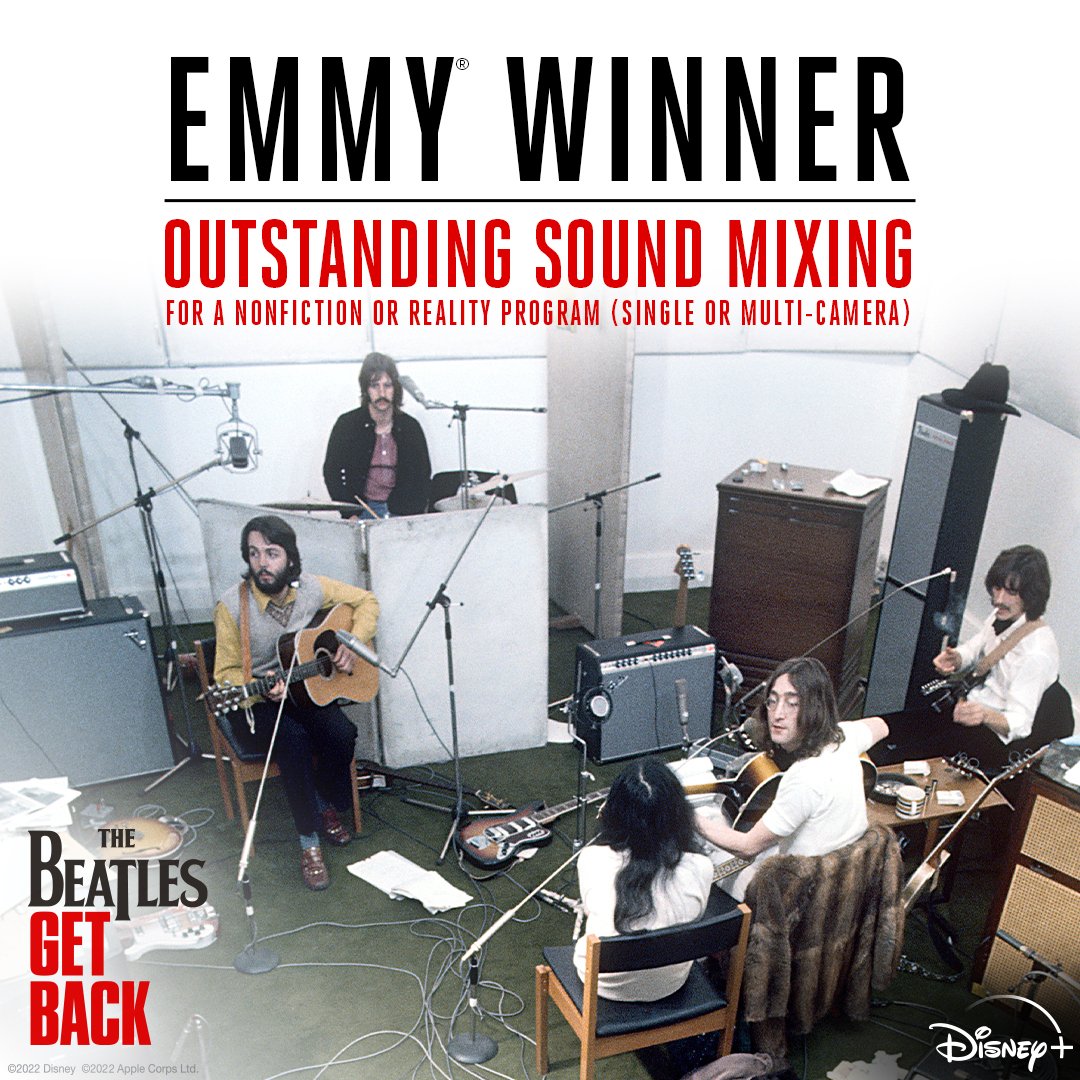 Image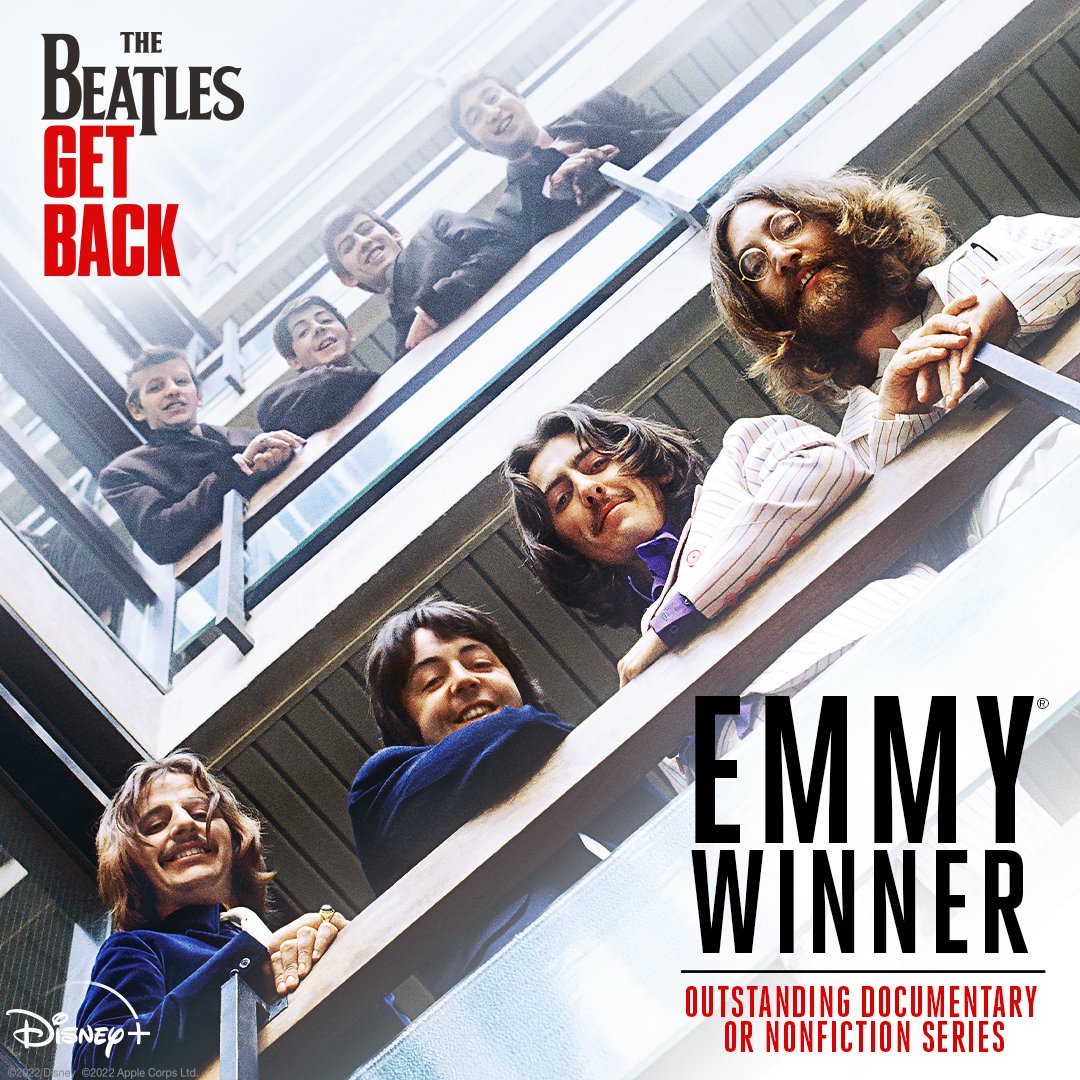 | | |
| --- | --- |
| Peter Jackson | Director |
| The Beatles | Themselves |
| John Lennon | Self |
| Paul McCartney | Self |
| George Harrison | Self |
| Ringo Starr | Self |
| Mal Evans | Self |
| Michael Lindsay-Hogg | Self |
| Yoko Ono | Self |
| Glyn Johns | Self |
| George Martin | Self |
| Linda McCartney | Self |
| Kevin Harrington | Self |
| Peter Sutton | Self |
| Neil Aspinall | Self |
| Denis O'Dell | Self |
| Billy Preston | Self |
| Alan Parsons | Self |
| Maureen Starkey | Self |
| Sue Ahearne | Self |
| Derek Taylor | Self |
| Ethan Russell | Self |
| Heather McCartney | Self |
| Shymasundar Das | Self |
| Paul Bond | Self |
| Les Parrott | Self |
| Gene Mahon | Self |
| Peter Sellers | Self |
| Magic Alex | Self |
| Keith Slaughter | Self |
| Mukunda Goswami | Self |
| Dick James | Self |
| Eileen Kensley | Self |
| Chris Thomas | Self |
| Sally Burgess | Self |
| Mike McGear | Self |
| Debbie Wellum | Self |
| Jimmy Clark | Self |
| Neil Richmond | Self |
| Peter Brown | Self |
| Ray Dagg | Self |
| Ray Shayler | Self |
| Pattie Boyd | Self |
| David Kendrick | Self |
| Peter Craddock | Self |
| Robert Fraser | Self |
| Jane Asher | Self |
| Mike Love | Self |
| Cynthia Lennon | Self |
| Neil Aspinall | Producer: 1969 film crew |
| Jonathan Clyde | Producer / executive producer |
| Olivia Harrison | Producer |
| Peter Jackson | Producer |
| Ken Kamins | Executive Producer |
| Paul McCartney | Producer |
| Denis O'Dell | Supervising Producer: 1969 film crew |
| Clare Olssen | Producer |
| Jabez Olssen | Associate Producer |
| Yoko Ono | Producer |
| Martin R. Smith | Supervising Producer |
| Ringo Starr | Producer |
| Jeff Jones | Executive Producer |