News - 23 August 2023
Ringo announces new EP "Rewind Forward" and 2023 Fall Tour Dates
To Be Released October 13, 2023
Image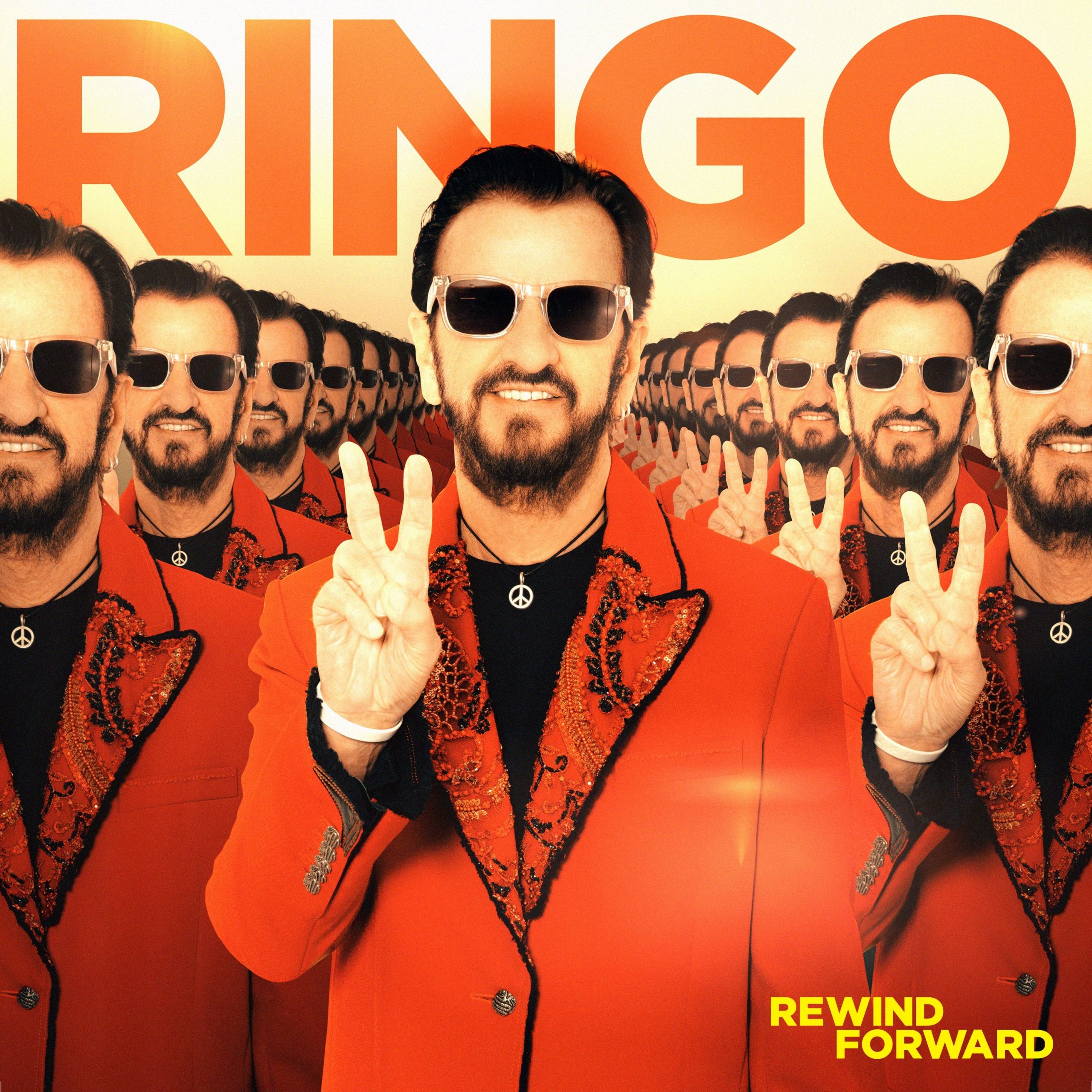 TITLE TRACK AND LEAD SINGLE OUT FRIDAY AUGUST 25, 2023
Today Ringo Starr announced details for his 4th EP, Rewind Forward, available to pre-order today, ahead of its release on October 13, 2023 on digital, cassette, CD, and 10" vinyl. The title track will be available to stream or purchase everywhere this Friday August 25, 2023 HERE.
The EP features 4 new songs:
Shadows On The Wall
Feeling The Sunlight
Rewind Forward
Miss Jean
"Rewind Forward was something I said out of the blue – it's just one of those lines like a Hard Days Night. It just came to me. But it doesn't really make sense," Ringo said with a laugh about the title. "I was trying to explain it to myself and the best I can tell you about what it means is: sometimes when you want to go forward you have to go back first."
"Rewind Forward" was written with his engineer and oft co-writer Bruce Sugar. "We've been writing a song now for every EP," said Ringo. The other tracks find Starr collaborating with old and new friends – including longtime All Starr Steve Lukather and his Toto bandmate Joe Williams who wrote the opening track "Shadows on the Wall"; Paul McCartney, who wrote "Feeling the Sunlight"; and for the final track, "Miss Jean," Heartbreakers Benmont Tench and Mike Campbell, who penned the track, and who also enlisted Ian Hunter, a former All Starr. In addition the EP features contributions from Joe Walsh, Steve Dudas, Lance Morrison, as well as Matt Bissonnette, Torrance Klein, Weston Wilson, Kip Lennon, and Marky Lennon. All songs were recorded at Ringo's home studio in Los Angeles (except for "Feeling the Sunlight" which was largely recorded in the UK).
All songs were recorded at Ringo's home studio in Los Angeles (except for "Feeling the Sunlight" which was largely recorded in the UK).
Ringo and his All Starr band will begin their Fall tour on September 17, 2023 at Toyota Arena in Ontario, CA playing shows in the Southwest, Midwest and Southeast before ending on October 13, 2023 in Thackerville, OK.
Full tour dates listed below.
15 Stateline, NV Lake Tahoe Arena Outdoors at Harvey's
16 Modesto, CA The Fruit Yard Ampitheater
17 Ontario, CA Toyota Arena
19 Tuscon, AZ Linda Rondstadt Theater
20 Albuquerque, NM Rio Rancho Center
22 Kansas City, MO The Uptown
24 Nashville, TN Ryman Auditorium
26 Clearwater, FL Coachmen Park
29 Indianapolis, IN The Murat Theater at Old National Centre
30 Milwaukee, WI Miller High Life Theatre
1 Minneapolis, MN Mystic Lake
3 Grand Rapids, MI DeVos Performance Hall
5 Chicago, IL Chicago Theatre
6 New Buffalo, MI Four Winds Casino
7 Detroit, MI Masonic Temple
9 Charleston, WV Charleston Coliseum
10 Columbus, OH Mershon Auditorium
12 Little Rock, AR Simmons Bank Arena
13 Thackerville, OK Lucas Oil Live at WinStar World Casino and Resort
2023 has already seen Ringo and his All Starr Band complete a Spring tour. Ringo recently celebrated his birthday on July 7 with his annual Peace & Love celebration in Beverly Hills where he was joined by family, friends and fans and a musical tribute by Silversun Pickups, Blake Mills and King Tuffas well as peace & love celebrations in 25 countries around the globe and into the universe via NASA who spread the message from Barstow California based station in the Deep Space Network. Last year Ringo released EP3 on September 16, 2022 and on November 18, 2022 EP3 was issued on 10" vinyl and blue cassette and accompanied with a new music video, "Everyone and Everything." On November 25, 2022 Ringo Starr and His All Starr Band Live at the Greek 2019 (Roccabella via BFD/The Orchard) was released on Blu Ray, DVD, CD and a special yellow double vinyl. Ringo also toured with his All Starr Band with both Spring and Fall tour dates. Additionally, Ringo created 500 life sized "Peace and Love" sculptures of his iconic hand symbol. These were sold exclusively through Julien's Auctions to benefit the Lotus Foundation.