Image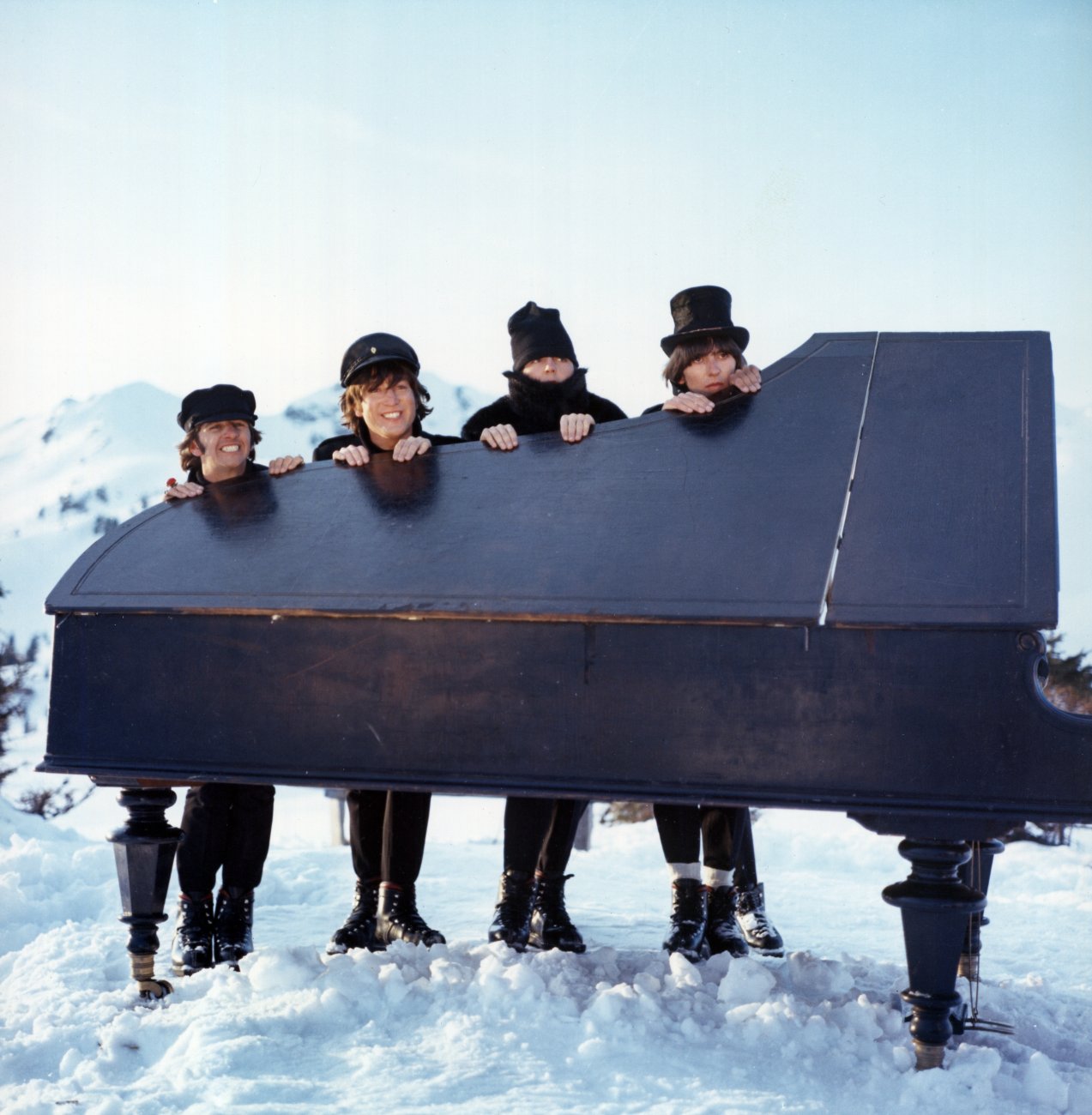 Film
Help!
Released 29th July 1965
"The storyline to Help! was written around me and the theme of the ring, and of course, Kaili. I had the central part. I think it helped that I'd been enthusiastic about the first film."
"While we'd really tried to get involved and learn the script for A Hard Day's Night, by the time Help! came along we were taking it as a bit of a joke. I'm not sure anyone ever knew the script, I think we used to learn it on the way to the set."
"Nowadays when people make movies, everybody's got to be insured and you're not supposed to do this, that and the other in case you get injured and hold up the budget of the movie. And yet they took us to Austria, took us up a mountain, gave us our boots (that nobody even laced up), gave us our skis, said, 'Turn over, take one. Action!' - and gave us a push."
"All the best stuff is on the cutting-room floor, with us breaking up and falling about all over the place, lying on the floor, incapable of saying a word."
Help! - the Beatles' second feature film - is a comedy adventure following the exploits of the group as they attempt to escape the clutches of an evil, mysterious cult. Will The Beatles survive being eaten by tigers, being shrunk, gassed, blown up, or kidnapped?
The film was directed by Dick Lester and combines the Beatles' own sense of humour with antics from a leading cast of actors including Leo McKern, Eleanor Bron, Victor Spinetti and Roy Kinnear.
A host of classic tracks are included, such as Ticket To Ride, You're Going To Lose That Girl, and, of course, Help!
Help! has been regarded by many as a parody of contemporary Bond films, complete with power crazy despots, mad inventors, and capers through exotic locations including the Bahamas and the snowy mountains of Austria.
The film has also been credited as being the forerunner to contemporary rock musicals and pop videos.
""Help" was written at the end of 1964. We were determined not to produce an upmarket, colour version of "A Hard Day's Night", which was a fictionalised documentary on Beatles lives. We chose, instead, to do a Pop Art fantasy within which we could play around with the state of Britain in 1965 and Harold Wilson's white-hot, modern society. Just pre-"Haight-Ashbury", pre-Vietnam, petrol wars, and the 1968 May riots, there was still a bed in England an exuberant residue of good humour. We had the pill and, as yet, relatively few parking meters. If the film seems innocent, we all can plead guilty – the songs were great and filming them was sheer pleasure."
Richard Lester, August 2007
John Lennon
John
Paul McCartney
Paul
George Harrison
George
Ringo Starr
Ringo
Leo McKern
Clang
Eleanor Bron
Ahme
Victor Spinetti
Foot
Roy Kinnear
Algernon
Patrick Cargill
Superintendent
John Bluthal
Bhuta
Peter Copley
Jeweller
Alfie Bass
Doorman
Warren Mitchell
Abdul
Bruce Lacey
Lawnmower
Mal Evans
Cross Channel swimmer
Dandy Nichols
Woman in street 1
Gretchen Franklin
Woman in street 2
Richard Lester
Director
Walter Shenson
Producer
Marc Behm and Charles Wood
Screenplay
Marc Behm
Story
John Pellatt
Production Manager
David Watkin
Director of Photography
John Victor Smith
Film Editor
Raymond Simm
Art Director
Robert Freeman
Colour Consultant and Titles
Ken Thorne
Musical Director
Julie Harris
Costume Designer
Cliff Richardson
Special Effects
Clive Reed
Assistant Director
Jack Atchelor
Camera Operator
Paul Wilson
Camera Operator
H.L.Bird
Sound Recordist
Stephen Dalby
Sound Recordist
Rita Davison
Continuity
Freddie Williamson
Make Up
Betty Glasow
Hairdresser
Arthur Newman
Wardrobe
Bill Blunden
Sound Editor
Don Challis
Sound Editor
Barry Vince
Music Editor
John Lennon and Paul McCartney
and by George Harrison
Songs by
The Beatles
Performed by
George Martin
Produced by