Album
On Air - Live At The BBC Volume 2
Release date: 11 November 2013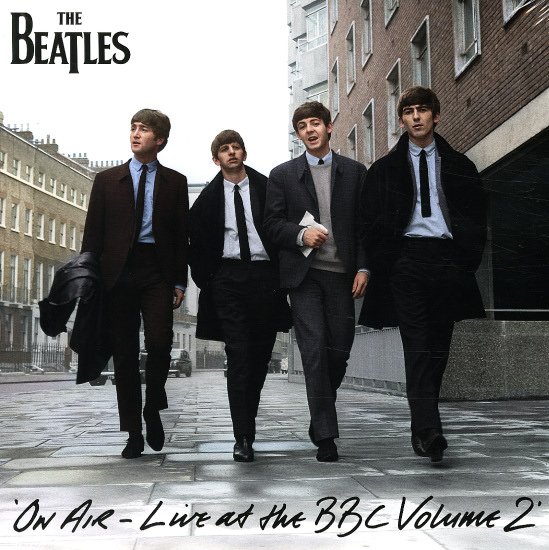 In 1994, The Beatles' Live at the BBC was released to worldwide acclaim - hitting number one in the U.K., number three in the U.S. and selling more than five million copies within six weeks. A new companion to The Beatles' first BBC collection, On Air – Live at the BBC Volume 2, will be released Monday, November 11 in 2CD and 180-gram vinyl packages with a 48-page booklet. On Air's 63 tracks, none of which overlaps with The Beatles' first BBC release, include 37 previously unreleased performances and 23 previously unreleased recordings of in-studio banter and conversation between the band's members and their BBC radio hosts.
In the studios of the British Broadcasting Corporation, The Beatles performed music for a variety of radio shows. On Air - Live at the BBC Volume 2 presents the sound of The Beatles seizing their moment to play for the nation. Thrilled to hear these exciting recordings again, Paul McCartney said, "There's a lot of energy and spirit. We are going for it, not holding back at all, trying to put in the best performance of our lifetimes."
Ten of On Air's songs were never recorded by the group for EMI in the 1960s, including two making their debuts with the new release: The Beatles' direct-to-air performance of Chuck Berry's "I'm Talking About You" and a rocking cover of the standard "Beautiful Dreamer." On Air also includes different versions of six rarities heard on the 1994 BBC collection: Little Richard's "Lucille," Chuck Berry's "Memphis, Tennessee," Chan Romero's "The Hippy Hippy Shake," Ray Charles' "I Got A Woman," and two songs they learned from records by Carl Perkins, "Glad All Over" and "Sure To Fall."
The Beatles' tribute to the BBC's most important pop show of the early '60s – "Happy Birthday, Dear Saturday Club" – is another surprise. As John Lennon recalled in 1980, "We did a lot of tracks that were never on record for Saturday Club – they were well recorded, too." Paul remembers, "We'd been raised on the BBC radio programs. One of the big things in our week was Saturday Club – this great show was playing the kind of music we loved, so that was something we really aspired to."
Between March 1962 and June 1965, no fewer than 275 unique musical performances by The Beatles were broadcast by the BBC in the U.K. The group played songs on 39 radio shows in 1963 alone. Ringo Starr said in 1994, "You tend to forget that we were a working band. It's that mono sound. There were usually no overdubs. We were in at the count-in and that was it. I get excited listening to them." On their busiest BBC day, July 16, 1963, The Beatles recorded 18 songs for three editions of their Pop Go The Beatles series in fewer than seven hours.

The group played 88 distinct songs in their BBC sessions – some were recorded many times; others performed just once. At the time, three national BBC stations provided all daytime radio broadcasting in the U.K. Only the Light Programme network might occasionally play a record. Most broadcast music was live music. Consequently, to promote their releases, The Beatles had to play live at the BBC. "Everything was done instantly," remembered George Harrison, "But before that, we used to drive 200 miles in an old van down the M1, come into London, try and find the BBC and then set up and do the program. Then we'd probably drive back to Newcastle for a gig in the evening!"
On Air also features BBC recordings of 30 well-loved songs from The Beatles' catalogue, including five number on¬es and other favorites such as: "I Saw Her Standing There," "Twist And Shout," "Do You Want To Know A Secret," "Boys," "Please Mister Postman," "Money," "And I Love Her," and "If I Fell."
Like its critically acclaimed predecessor, On Air - Live at the BBC Volume 2 includes audio of The Beatles talking to DJs Brian Matthew and Alan Freeman and Pop Go The Beatles hosts Lee Peters and Rodney Burke. When first broadcast, pop fans were amazed to hear such witty irreverence on the rather formal BBC and it is great fun to hear these extracts now. In addition, On Air releases, for the first time, the group's candid interviews for the Pop Profile series recorded in November 1965 and May 1966.
Newly remastered for reissue on November 11, The Beatles' first Live at the BBC album sounds and looks better than ever. This collection of the group's BBC sessions mixed versions of their hits with a treasure trove of 30 songs The Beatles performed on air but never released on record in the 1960s. The compelling track list ranged from a rare performance of the little known Lennon-McCartney original "I'll Be On My Way" to covers of classic rock 'n' roll and contemporary rhythm and blues songs. At the time of its release, Live at the BBC was hailed by Rolling Stone as "an exhilarating portrait of a band in the process of shaping its own voice and vision." It earned a GRAMMY® Award nomination for Best Historical Album.
Live at the BBC was assembled by George Martin in 1994 and On Air - Live at the BBC Volume Two was compiled and researched by producers Kevin Howlett and Mike Heatley. Both albums have been meticulously mastered by engineers Guy Massey and Alex Wharton at Abbey Road Studios. The booklets for both collections include Kevin Howlett's essays on the history of The Beatles' BBC radio sessions and his detailed commentaries on all of the tracks.