Image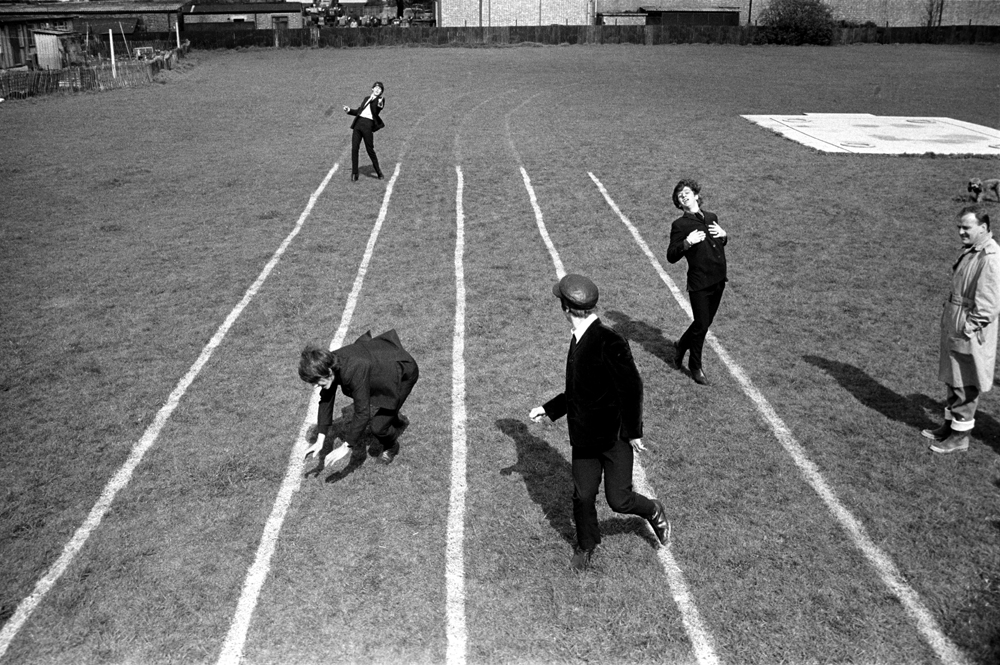 Film
A Hard Day's Night
Release date: 06 July 1964
"We were the sons of The Goon Show. We were of an age. We were the extension of that rebellion, in a way."
"Everyone in Liverpool thinks they're a comedian. Just drive through the Mersey Tunnel and the guy on the toll booth will be a comedian. We've had that born and bred into us."
"I think because I loved films I was less embarrassed than the others to be in one; John really got into the movie, too. I felt a lot of the time that George didn't want to be there. It was something he was doing because we were doing it."
"Alun (screenwriter) picked up a lot of little things about us. Things like: 'He is late but he is very clean, isn't he?' Little jokes, the sarcasm, the humour, John's wit, Ringo's laconic manner; each of our different ways. The film manages to capture our characters quite well."
In this, The Beatles' first feature film, the band must use all their guile and wit to reach a scheduled television performance whilst avoiding their pursuing fans and press. This is in spite of Paul's troublemaking grandfather (Wildfred Brambell), and Ringo's arrest.
A Hard Day's Night has been praised as a benchmark for music film production, and remains influential to this day. Director Dick Lester used a documentary style of filming to capture the claustrophobia of Beatlemania, and writer Alun Owen delivered a script which epitomised the quick-witted humour of the band. Comedy and music are combined to make this pastiche of a day in the life of The Beatles during 1964.
Released by United Artists. A Walter Shenson-Subafilms Production.
| | |
| --- | --- |
| John Lennon | John |
| Paul McCartney | Paul |
| George Harrison | George |
| Ringo Starr | Ringo |
| Wilfred Brambell | John McCartney, Paul's Grandfather |
| Norman Rossington | Norm, the Beatles' manager |
| John Junkin | Shake, the Beatles' road manager |
| Victor Spinetti | TV Director |
| Anna Quayle | Millie |
| Deryck Guyler | Police Sergeant |
| Richard Vernon | Johnson, the gentleman on the train |
| Edward Malin | Hotel waiter |
| Robin Ray | TV floor manager |
| Lionel Blair | TV choreographer |
| Alison Seebohm | Dolly, Simon Marshall's secretary |
| David Janson | Charley, a young boy Ringo encounters |
| Richard Lester | Directed by |
| Alun Owen | Written by |
| Denis O'Dell | Executive Producer |
| Walter Shenson | Producer |
| Gilbert Taylor | Director of Photography |
| John Jympson | Film Editing |
| Ray Simm | Art Direction |
| Julie Harris | Costume Design |
| Betty Glasow | Hairdresser |
| John O'Gorman | Makeup Artist |
| John Rogers | Executive In Charge of Production: Miramax |
| John D. Merriman | Assistant Director |
| Michael Barry | Sound Re-mixer: Sound One Corp. (special edition version) |
| Carles Berot | Dubbing Supervisor |
| H.L. Bird | Sound Recordist |
| Stephen Dalby | Sound Recordist |
| Gordon Daniel | Sound Editor |
| Michael DiCosimo | Sound Consultant: Dolby Laboratories (special edition version) |
| Kevin Reeves | Sound Engineer: Polygram Studios (special edition version) |
| Dominick Tavella | Sound Re-mixer: Sound One Corp. (special edition version) |
| Derek V. Browne | Camera Operator |
| Dan Edelstein | Editorial Coordinator (special edition version) |
| Romeo Fornoles | Timer: 4-Media Co. Film Laboratory restoration |
| Stephen Schwartz | Assistant Editor (special edition version) |
| Charlotte Stobbs | Apprentice Editor (special edition version) |
| Kenny B. Stuart | Post-Production Coordinator (special edition version) |
| Pamela Tomling | Assistant Editor |
| Rita Davison | Continuity |
| Robert Freeman | Titles Design |
| Andrew Herwitz | Business Affairs: Miramax (special edition version) |